I've sent e-mails with your usernames and passwords for this site.
Readings are available under the "Readings" section of the site: note that you must be logged in to see the readings, and they'll be invisible if you aren't.
To write a response post, you also should be logged in. When you log in, you'll see a dashboard that looks something like this: you can either start writing in the "quick draft" area, or go to "posts" on the left and click "add new."

Here's what that will look like.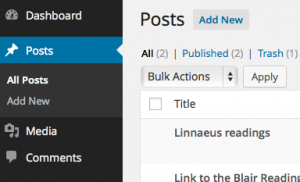 When you're finished writing, be sure to click "publish." If you want your post to be invisible, use the "restrict content" options below the editor and restrict to the "subscriber" level or above.